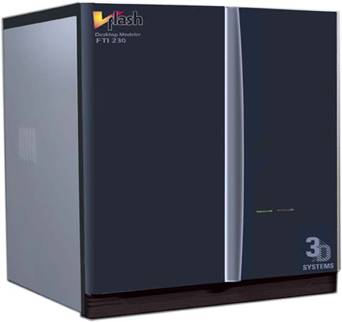 3D Systems'
V-Flash® Modeler
, the first commercially available 3-D modeler priced under $10,000, is available for purchase immediately through 3D Systems authorized resellers.

The V-Flash® Modeler delivers exceptional quality hard-plastic parts for enhanced design at an affordable price. They combine the versatility typically found in more expensive 3-D printers with the convenience of an easy-to-use desktop printer.

Buddy Byrum, Senior Director of 3-D Printing at
3D Systems
, says:
"V-Flash® Modelers are ready on your schedule and fit right in your design space to output your next design iteration. Unlike other 3-D Printers, V-Flash® Modelers don't slow down with multiple model builds, so you can build more parts faster."



The V-Flash® Modeler is easily placed into any workspace, in a business, office or home. It's compact and light and installation is as easy as 1?2?3!
See the V-Flash® Modeler for yourself today at the RAPID 2009 Conference & Expo. We're in Booth #215.

Visit www.modelin3d.com to get your V-Flash® 3-D Printer today!