Whether we're talking people or devices, multitasking is barely optional in this day and age. Think about it: our phones are cameras, our paper printers are digital scanners, and our computers are TVs. Less is more, but more is more too, which is why 3D Systems' new ProJet® 5500X is such a welcome addition to the 3D printing world. With multi-material capability, the ProJet 5500X lets us simultaneously print rigid and flexible materials, as well as all combinations in between, for a wider variety of applications and greater versatility in prints.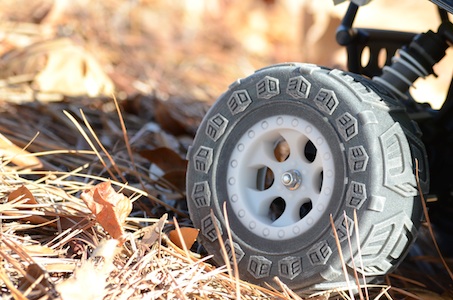 The printer works with three different pure material options: rigid white, rigid clear, and flexible black, and using these three materials, the printer is able to create intermediate color tones and flexibility ranges by curing composite drops of material at the pixel level. This means tremendous time savings for prototyping and part inspection that formerly required multiple machines, processes and assemblies. (Image left: Multi-material RC car tires in the wild)
The ProJet 5500X is also the first machine to take advantage of 3D Systems' Geomagic® Print™ software, to efficiently and intelligently designate materials to parts and effortlessly engineer the optimal layout of the printer's build platform. A simple and convenient software, Geomagic Print will ultimately be released for each of 3D Systems' professional and production print engines. This is good news too, because it means that the time you save in arranging prints will now be freed up to (you guessed it) do more.