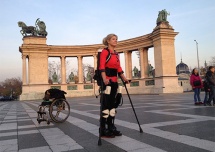 Amanda Boxtel didn't think she'd ever walk again. After shattering four vertebrae in a 1992 skiing accident, she was left in a wheelchair, her legs paralyzed.
But with the help of 3D printing, Amanda is standing and walking. Recently, Amanda debuted a 3D printed hybrid exoskeleton suit by Ekso Bionics and 3D Systems at a Singularity University-hosted event in Budapest, Hungary. The suit uses a supported structure, a network of mechanical actuators and controls, and customized 3D printed body components to enable Amanda to rise from her chair and walk.
To get the perfect fit, designers used 3D scanning to digitize the contours of Amanda's shins, thighs and spine. They then used those scans to model personalized assemblies, which would fit Amanda perfectly and make the suit stand out in function and form.
After years of dreaming about it, I am deeply grateful and thrilled to be making history by walking tall in the first-ever 3D printed Ekso suit, made specifically for me," she said.
Click here to see a video about the 3D printed Ekso.
Click here to read more about Amanda and the 3D printed Ekso suit.