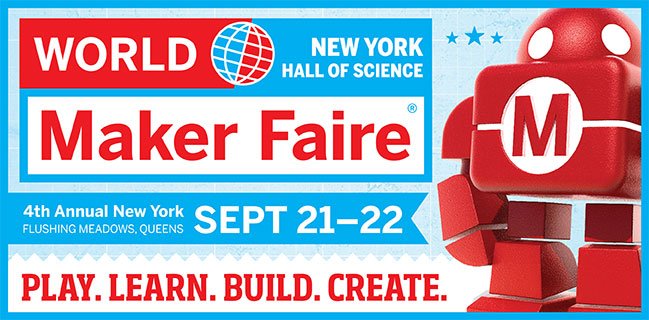 For nearly a decade, Maker Faire has served as the premier meeting point for hobbyists, engineers, tinkerers, tech enthusiasts, students, teachers, and creators of all ages. With Maker Faires popping up all around the world to take part in the "greatest show (and tell) on earth", it is clear to see that the spirit of the maker movement is strong and it's only getting stronger. 2014's "World Maker Faire" will be held on September 20th and 21st at the New York Hall of Science in Queens. Attendees can expect to see a wide range of different makers including those who work with robotics, rockets, drones, food, gadgets, bicycles, and of course 3D printing!
As we approach this exciting weekend, we are proud to share that 3D Systems will have a diverse presence at the 2014 World Maker Faire. In addition to representing ourselves at the XPrize Booth (Zone 3, Booth #340), we will be showcasing our technology at a number of other stands throughout the show. For those unfamiliar, XPrize is a STEM-based competition (science, technology, engineering, mathematics) that promotes the incubation and realization of ideas and technologies to will help solve humanity's greatest challenges. 3D Systems will be hosting live 3D scanning demonstrations using the Sense and iSense scanners, as well as 3D printing models of Baymax, the new robot character from Disney's upcoming film Big Hero 6, on the new Cube and CubePro 3D printers.
You will also be able to find 3DS with customizable toy company MakieLab Makies, Urban Hubs (Booth #38369) and maker John Abella in the 3D Printing Village (Zone 2). Though each of these exhibitors use 3D printing to enable their ideas, the concepts and efforts behind their work are our inspiration as a company to keep enhancing and developing our technology for their empowerment. Whether for children's fun and self-expression, global initiatives made local, or the creativity smiles are made of, we are proud to share in and strengthen these endeavors. For more detail on precise locations during Maker Faire, make sure to follow us on Twitter for live updates (@3dsystemscorp).
In the words of famous inventor and maker Thomas Edison: "What you are will show in what you do." If you're in the NYC area this weekend, come discover 3D Systems and be amazed by the innovation of 2014.