Sports enthusiasts know there's nothing quite like seeing your favorite team play at their home stadium. The serge of the crowd, the energy in the stands, being mere yards away from your favorite players: it's special and exhilarating, and it's the backdrop for memories made and memories to come. Recognizing the significance of these stadiums, start-up company ZVerse has licensed a growing collection of college football stadiums for full-color 3D printing with 3DS' ProJet 660Pro, and is offering them to fans as a meaningful memento.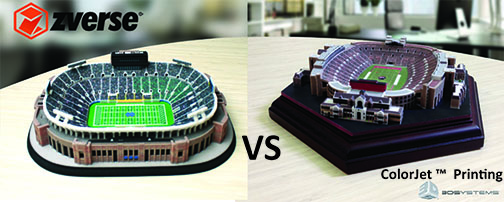 In the case of this weekend's big game, with Notre Dame facing off against Florida State University (both undefeated), ZVerse stands as a neutral party, offering both stadium prints to eager fans. While remaining nonpartisan, Notre Dame is a special case to note, as ZVerse holds one of just 200 permitted licenses by the university. In fact, due to strict manufacturing controls by the school, the ZVerse replica of the Fighting Irish stomping grounds is the first authorized version in 20 years.
ZVerse currently has over 30 collegiate licenses and has been recognized by both Sports Illustrated and the Sports Business Journal for their achievements in business. If you're interested in making space on your mantel for some of this special real estate, check out the ZVerse website for these 3D printed stadiums and other ZVerse collectables!