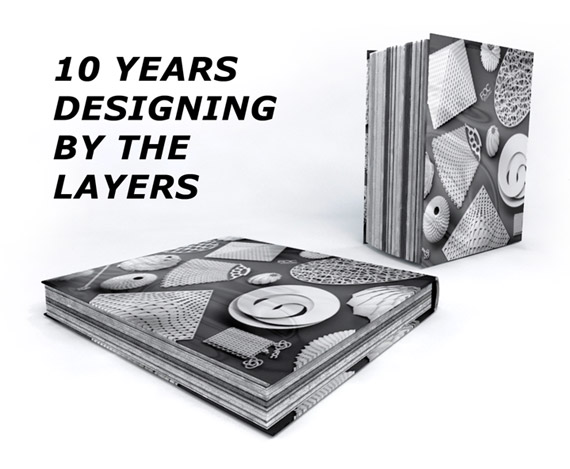 We are crowdsourcing partners for our 10 year anniversary book 2010. Do you want to be part of this as a publisher, graphic designer or an advertiser?
Abstract
Revolutions seldom happen... but a new one is well on its way, and we are the pioneers.
Not long ago, the norm was months or even years for the development and market analysis of even a simple new product, and designers were able to produce only a handful of products during their careers.
New production technologies involving 3D printing are changing many realities for today's designers and manufacturers. The possibilities enabled by these new tools and the ability to consider production in terms of days, or even hours, is simply mind-boggling. Be it modification, adaptation or production speed - the dramatic reduction in "time to market" is allowing technology to outrun traditional marketing strategies and keep in touch with consumer trends in new product demand - and thus begging the question if today's current manufacturing infrastructure might also be rapidly becoming outdated.
There is no longer time for designs to grow over the course of many years into "design classics", as they did in the past. Tangible products will become the future design classics - a type of digitalization process that has already transpired with a variety of commercial products (literature, music, photography, money etc.). This digitalization process will change our lives in ways that is hard for us to even fathom.
Freedom Of Creation (FOC) started its journey as a student design project by Janne Kyttanen in 1999. During his graduation year 2000, Kyttanen founded FOC as a company specializing in the design with 3D printing, and adopted the nomenclature '3D printing' to help visually describe the various techniques encompassed in these technologies.
FOC is a true pioneer and the first company to successfully commercialize design products made via layer manufacturing, "10 years designing by the layers" features several case studies - some of which have already become 21st century communication and design icons - from the lighting, packaging, gift, fashion and other design fields, executed for an array of multinational clients such as Hyundai, LVMH, Nike, Onitsuka Tiger, L'Oreal, Heineken and Apple.
This book is the first of its kind - a tactile and visually stimulating experience that takes the reader through the first decade of design with 3D printing for commercial consumer applications. The surface has barely been scratched regarding the mountain of possibilities these new technologies will offer in the decades to come. The epic nature of the book will render it both an iconic value for book retailers, as well as offering a trend setting educational example for academics in design and engineering. Many of the designs featured in the book are part of museum collections around the world, which will inevitably create a global demand within museum book shops as well.
Become the publisher
We are looking for a publisher for our 10 year anniversary book. The book will be finalized for publication purposes during the second quarter of 2010. We still have time for selecting the publisher, so we decided to do a crowd sourcing with finding the publisher instead of us getting an active role in this. By doing it in this way, we believe we will find the publisher who is perhaps already following us and really shares our passion for our work.
Become the Graphic Designer
We are looking for an experienced Graphic Design graduate who would like to design our book. You have free hands to make this into a masterpiece.
Become an advertiser
In order for us to finance the creation of the book, we are selling advertisement space in it. Since our book will feature several technical stories and because 3D printing is in the center of it all, this is interesting for companies who are directly linked in the development of 3D printing technology. Whether it is from the perspective of software, material or hardware development, they are all equally interesting to us, and their technicalities will all be explained in detail. There will only be limited space for 4 advertisers, bellow are the details:
1x Main sponsor
- Costs 10.000 Euros
- 2 page technical spread of our designs created by their technology.
- Logo on the back cover of the book
3x Sub sponsor
- Costs 3.000 Euros
- Logo on the last page of the book
Interested to partner with Freedom Of Creation?
If this sounds interesting to you, be sure to contact us through [email protected], share a brief description of your interest, background and motivation for collaborating with us on this revolutionary project.