Freedom Of Creation collaborated with Cloudfactory on a series of limited edition 3D printed design objects, which were launched at the first ever Cloudfactory pop-up store in Amsterdam.
One of the co-founders of Cloudfactory said, "They all, in their own way, invoke curiosity, originality and an element of surprise. It's all there in the designs, whether it's a bow-tie book, perfume bottles crafted from soap, or a wind cape to wear on your bike in the rain, which plays with the elements." The international Cloudfactory team includes fashion designers, copywriters, product designers, technologists, business strategists, art directors, photographers, and stylists. They have collaborated together to make this first Cloudfactory Collection possible.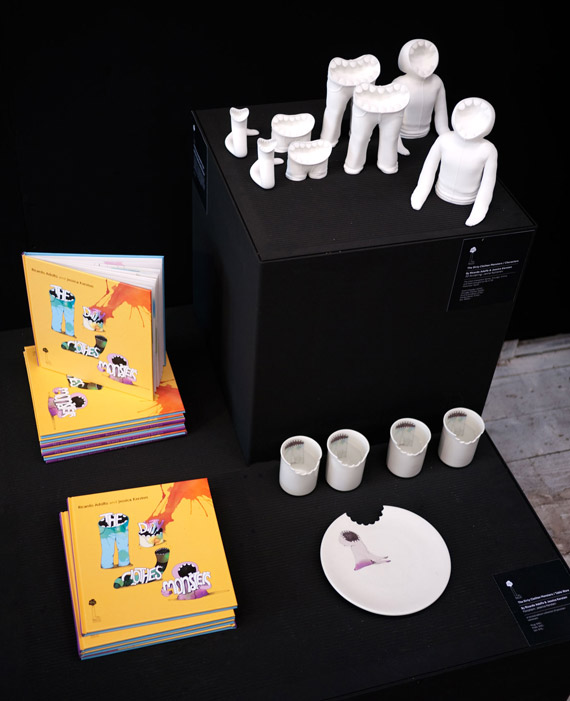 Dirty Clothes Monsters by By Ricardo Adolfo & Jessica Kersten
Stinky, Smudge, Smelly and Stain are best friends. They spend their time playing in the secret filthy corners of the house. One day Stain disappears and his friends set out to find him. An adventure full of escapes, forced baths and a lot of dirt. The book is published in Portuguese and English.
Silhouette collection by Liza Witte. Photography by Marcel Christ.
A collection of sophisticated perfume bottles made of black soap. The ephemeral sculptures will melt away, releasing their unique scent.
To view or purchase products from the entire Cloudfactory collection, please follow this link to the Cloudfactory online store
Opening Cloudfactorycollection.com pop-up gallery / boutique. from AsSeenOnScreen on Vimeo.