ASICS, one of the most innovative sports footwear and apparel brands today, has launched the inspiring "What's a left, without a right?" campaign. Conceptualized by advertising agency Amsterdam Worldwide, the campaign was brought to life by the design talents of Freedom Of Creation (FOC) and has become one of 2009's most talked about branding initiatives.
"What's a left, without a right?" celebrates a new collection of 80's inspired footwear by ASICS, and underscores the company philosophy "Anima Sana in Corpore Sano"**, the diversity of the world in which we live, and is an engaging and stimulating reminder that in uniting our opposites, or other half, we can become stronger, smarter, balanced ... and whole. The campaign also renews Amsterdam Worldwides collaboration with FOC - a relationship that started with FOC's design collaboration in 2008 for the mega super-hit "Electric Tiger Land" brand campaign for Onitsuka Tiger. FOC understood the key elements of both the ASICS company philosophy and the new campaign developed by Amsterdam Worldwide and designed ten unique, 80's-inspired objects.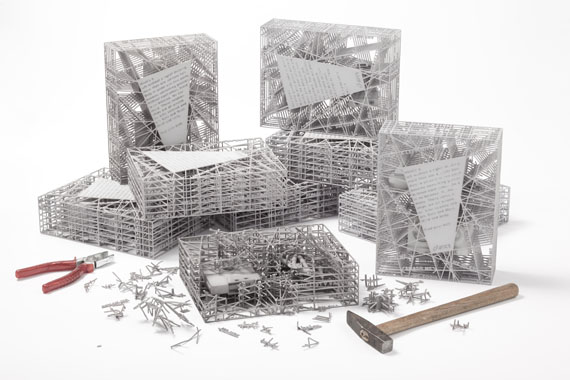 The objects were designed by Janne Kyttanen to be manufactured directly into a mesh packaging which also incorporated a personalized message in 4 different languages. Each package contained only half an object, and the recipients (ten bloggers world-wide) were left with the task of finding the other half to make their present whole. Janne Kyttanen, founder and creative director at FOC, commented: "We knew that the intended recipients of these gifts are trend-setters. They had to receive something which was truly one-of-a-kind, that would have a strong 'wow' factor and inspire their curiosity to investigate. ...and yet leave them with a sour-sweet feeling of regret for having to destroy the packaging that enclosed their half-icon product."
FOC worked with Amsterdam Worldwide and ASICS to assure a design that would intrigue the bloggers, and used high-tech rapid manufacturing technologies to create this "all-in-one", singular creation. The gifts were forwarded to 10 bloggers, hand-picked by Amsterdam Worldwide for their impact on ASICS' dynamic target audience of people in their late 20s and early 30s. Bloggers received two non-matching halves of ten unique, restyled 1980s-inspired iconic models. The single piece, all-in-one manufactured package contained the two non-matching halves, incorporated within a cage-like graphite-colored mesh, which the bloggers had to crack open. Janne Kyttanen also designed the casing so as to feature a plaque with a personal message, in the blogger's own language, signed by ASICS. The bloggers were then invited to use their online network to locate the missing pieces.
You can also reproduce the products of the entire campaign by downloading them here. You naturally need a 3D printer in order to be able take part in this.