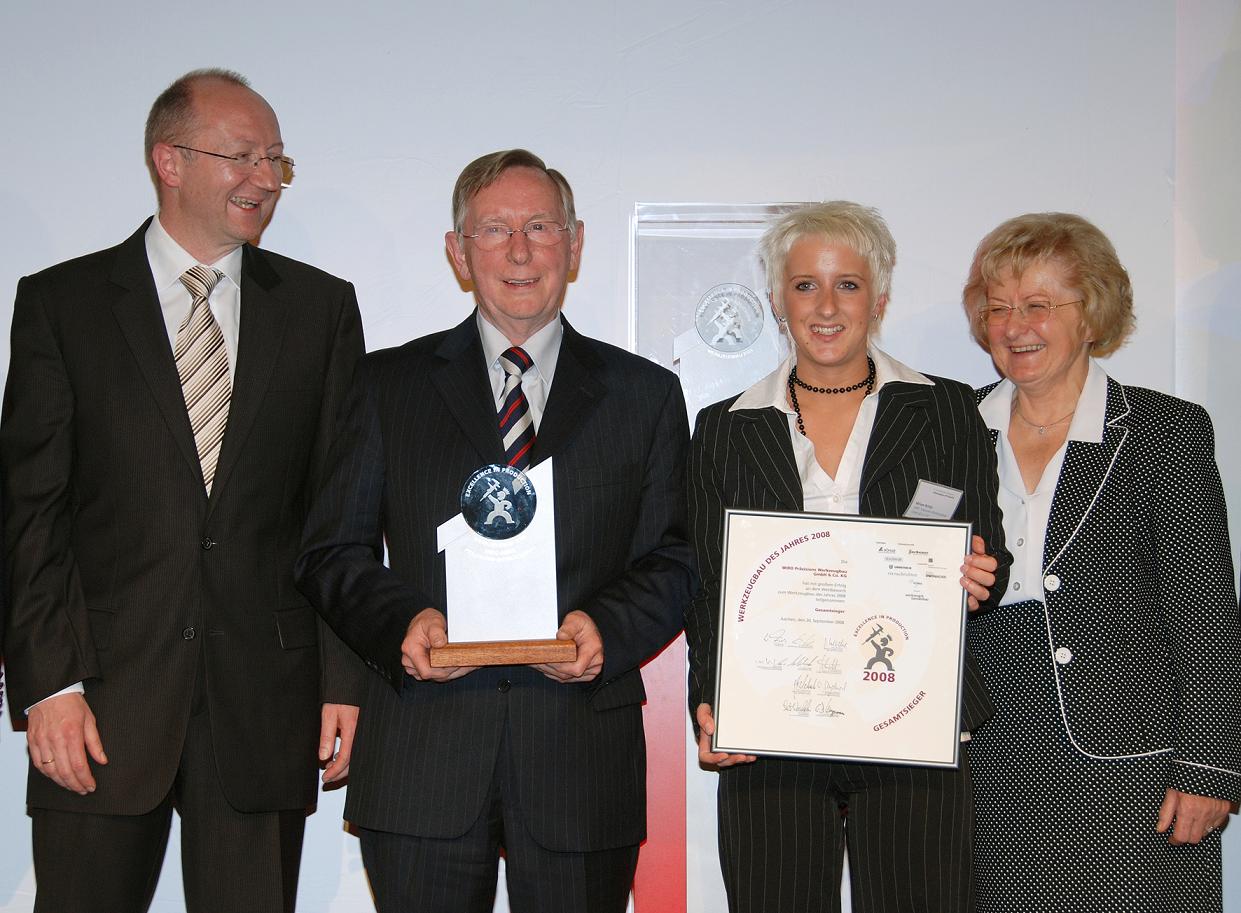 WIRO accepting the Excellence in Tooling 2008 Overall Winner Award
Givat Shmuel, Israel – April 6, 2009 – Cimatron Limited (Nasdaq: CIMT), a leading provider of integrated CAD/CAM solutions for mold, tool and die makers as well as manufacturers of discrete parts, announced that its long term customer, WIRO Toolshop, has been recognized as the best toolmaker in Germany for 2008.

Mr. Reiner Rohlje, General Manager of WIRO Prazisions-Werkzeugbau, and his team took first prize at the "Excellence in Tooling" competition 2008, out of 320 competitors. In effect, the toolshop has won the award twice in a row as they took the prize in 2006 and winners are not allowed to participate the year after a win.

Excellence in Tooling is considered the most prestigious competition manufacturing companies can win in Germany. The competition is organized by RWTH University in Aachen and a collection of governmental and other organizations and institutions, including the German Federal Ministry of Economics. The competition recognizes product quality, delivery time and customer service as well as other criteria.
WIRO is a family-owned toolshop with 40 employees in Olpe, Germany. The toolshop produces molds for screw caps, closures and tube components. 90% of their tools are exported, with 80% of orders shipping outside of Europe. WIRO customers include the biggest multinational companies in the food and cosmetic sectors. WIRO are involved in their customers' work from consulting on the design of the part to coordinating injection molding at the customer's site.

WIRO use CimatronE for all 3D work including the designing of the plastic parts, designing of the molds and NC programming for the mold production. CimatronE's advantages as an integrated software suite means it helps WIRO streamline the engineering process from quoting to design, to manufacturing and assembly in an efficient manner, without the need for data conversion. Dedicated CAD capabilities enable accurate design both of the plastic part and of the mold, while CAM functions, including safe and efficient toolpath creation and machine simulation, ensure safe and efficient milling and drilling of the various mold components.

"The CimatronE system is user friendly, we never have any problems," said Reiner Rohlje, General Manager of WIRO. "We trust the software completely for running our machines. At night, we operate a 'lights-out-shift' in which the machines continue to operate without supervision."
"WIRO offers top cost/quality ratio to their customers. We can even compete with export markets from cheaper countries because we offer our customers high quality molds with a longer lifetime and reduced need for maintenance– all contributing to an overall low cost of ownership," Mr. Rohlje added.
"We congratulate WIRO on this outstanding achievement," said Dirk Dombert, General Manager of Cimatron GmbH. "WIRO's win is a testament to their achievements as experienced, highly skilled mold makers. Their skills, along with intelligent use of technology, have allowed WIRO to be competitive in today's market and they should serve as a role model for toolshops worldwide."

About Cimatron
With over 25 years of experience and more than 40,000 installations worldwide, Cimatron is a leading provider of integrated, CAD/CAM solutions for mold, tool and die makers as well as manufacturers of discrete parts. Cimatron is committed to providing comprehensive, cost-effective solutions that streamline manufacturing cycles, enable collaboration with outside vendors, and ultimately shorten product delivery time.

The Cimatron product line includes the CimatronE and GibbsCAM brands with solutions for mold design, die design, electrodes design, 2.5 to 5 axes milling, wire EDM, turn, Mill-turn, rotary milling, multi-task machining, and tombstone machining. Cimatron's subsidiaries and extensive distribution network serve and support customers in the automotive, aerospace, medical, consumer plastics, electronics, and other industries in over 40 countries worldwide.

Cimatron is publicly traded on the NASDAQ exchange under the symbol CIMT. For more information, please visit the company web site at: http://www.cimatron.com/

This press release includes forward looking statements, within the meaning of the Private Securities Litigation Reform Act Of 1995, which are subject to risk and uncertainties that could cause actual results to differ materially from those anticipated. Such statements may relate to the company's plans, objectives and expected financial and operating results. The words "may," "could," "would," "will," "believe," "anticipate," "estimate," "expect," "intend," "plan," and similar expressions or variations thereof are intended to identify forward-looking statements. Investors are cautioned that any such forward-looking statements are not guarantees of the future performance and involve risks and uncertainties, many of which are beyond the company's ability to control. The risks and uncertainties that may affect forward looking statements include, but are not limited to: currency fluctuations, global economic and political conditions, marketing demand for Cimatron products and services, long sales cycle, new product development, assimilating future acquisitions, maintaining relationships with customers and partners, and increased competition. For more details about the risks and uncertainties of the business, refer to the Company's filings with the Securities and Exchanges Commission. The company cannot assess the impact of or the extent to which any single factor or risk, or combination of them, may cause. Cimatron undertakes no obligation to publicly update or revise any forward looking statements, whether as a result of new information, future events or otherwise.