Advances from Silver Tier to Gold Tier – Announces GibbsCAM 2013 integration with PTC GRANITE
Gibbs and Associates, developer of GibbsCAM® software for programming CNC machine tools and a Cimatron company, today announced that it has moved from a Silver Tier Partner to a Gold Tier Partner within the PTC PartnerAdvantage™ Program. The upgrade to the Gold Tier, which provides enhanced access to a comprehensive suite of capabilities, followed an extensive review of GibbsCAM, its integration with PTC Creo® design software, and GibbsCAM's CNC programming capabilities.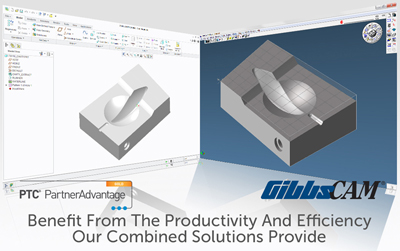 The move from Silver Tier to Gold Tier arose from GibbsCAM's continued leadership in easy-to-use, yet powerful, CNC programming solutions, its increasing use of PTC GRANITE® software to add automation features for PTC Creo users, and its integration with PTC Creo. Andy Barlow, PTC Vice President, PTC PartnerAdvantage Program, stated, "We are pleased that Gibbs and Associates has chosen to advance its partnership with PTC and increase its use of PTC GRANITE. We look forward to working closely to enhance the value GibbsCAM brings to our common customers."
Gibbs and Associates, a PTC GRANITE Partner, also announced availability of GibbsCAM 2013, with all its functionality integrated with PTC Creo 2.0. PTC Creo users are assured compatibility with GibbsCAM since Gibbs incorporates the PTC GRANITE 3D library for CAD file interoperability. This GibbsCAM software integration provides PTC Creo users all the functionality required to program lathes, 2-5 axis mills, MTMs and wire-EDM machines. GibbsCAM's easy-to-use interface provides extensive flexibility for faster programming and the highest levels of efficiency in machining with a shop's preferred processes.
"We are happy to have elevated our PTC PartnerAdvantage program status to the Gold Tier through our continuous software development using PTC GRANITE and our increasing activity with PTC Creo," said Robb Weinstein, Senior Vice-President of Sales and Strategic Planning of Gibbs and Associates. "We are also very pleased to announce the availability of GibbsCAM 2013, uniquely integrated with PTC Creo, so that users may benefit from the productivity and efficiency our combined solutions provide engineers, CNC programmers and machinists."
The new GibbsCAM 2013 suite of CNC programming solutions will be available for demonstration at PTC Live Global in Anaheim, California, on June 9-12, 2013. Visit Gibbs and Associates during the Live Event at the Anaheim Convention Center during exhibit hours in Booth 910.
PTC, Creo, GRANITE and PartnerAdvantage are trademarks or registered trademarks of PTC Inc. or its subsidiaries in the United States and other countries.