Bill Gibbs, Cimatron North America's president, and founder of Gibbs, will highlight profitability at the IMTS 2010 Speakers Conference in Chicago.
Gibbs and Associates, developer of GibbsCAM® software for programming CNC machine tools and a Cimatron company, announced today that its founder—and president of Cimatron North America—Bill Gibbs, will show manufacturers how powerful CAM software can increase profits, at a speakers conference sponsored by the International Manufacturing Technology Show (IMTS), on September 16, 2010.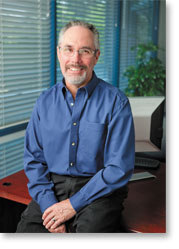 "Job shops, large and small, captive and independent, are looking for economical ways to improve the bottom line, and survive this tough economic environment," said Bill Gibbs. "In an effort to help them, I will discuss key contributors to production costs that can be eliminated with an easy-to-use but highly capable CAM system such as GibbsCAM. The cost contributors are not theoretical, but real problems identified at various machining operations, where we have seen our own customers reduce or eliminate these costs."
Bill Gibbs founded Gibbs and Associates as a contract programming service for CNC part programming in 1982, and the company started developing CAD/CAM software two years later. In 2008, Gibbs and Associates merged into Cimatron to jointly become the seventh largest CAM provider in the world. Bill Gibbs is now president of Cimatron North America, marketing and selling both of Cimatron's main product lines, GibbsCAM and CimatronE.
The presentation, entitled "CAM Software and Your Profitability", is part of a conference series sponsored by IMTS, which will explore the relationship between innovative technology and business development. The conference runs from September 14-17, and Bill Gibbs' presentation will take place on Thursday, September 16, 2010, at 11:00 A.M., in the West Building of McCormick Place, in Chicago.
The IMTS show itself will run from September 13-18. Cimatron Group will showcase both of its major product lines, CimatronE and GibbsCAM in Booth E-3810 in the East Building of McCormick Place.
For more information about GibbsCAM, or to locate your local GibbsCAM reseller, call 1-800-654-9399, or email [email protected]. Information about GibbsCAM is also available at the company's website, www.GibbsCAM.com.