Newest of Fast Material Removal Features in GibbsCAM to Be Demonstrated
Gibbs and Associates, developer of GibbsCAM® software for programming CNC machine tools and a Cimatron company, announced today that it will reveal and demonstrate the release version of its highly enhanced Plunge Rough feature in exhibit #2236, at the WESTEC 2010 Exposition, to be held in the South Hall of the Los Angeles Convention Center, in Los Angeles, California, from March 23-25.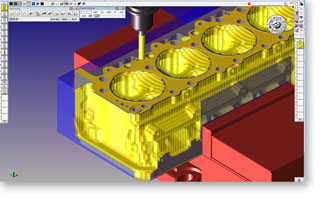 The new Plunge Rough feature, now one of many user-controlled custom processes within GibbsCAM 2010, accommodates the latest, inserted, plunge milling tools specially developed for this type of material removal, and allows users to specify machining patterns and multiple variables to control tools and motion for fast plunge roughing with optimal surface finish and tool longevity.
"Our Advanced 3D users will be quite surprised with the new feature," said Bill Gibbs, founder and president of Gibbs and Associates. "The new Plunge Rough is fully integrated and has increased intelligence about stock condition, tracking where material has been removed, so it can detect safe pull-off direction and distance when it retracts the tool."
GibbsCAM Advanced 3D users will see Plunge Rough as a custom process tile appearing in their Machining palette, with several new options and parameters, including the ability to:
Specify plunge milling patterns as linear (with cutting direction at any angle), circular, contour, or as patterns between two specified guide curves
Select part type as core or cavity
Define pull-off motion and distance to eliminate surface marking and minimize tool wear
Specify containment surfaces, containment geometry, and stock bodies to control areas to be machined
Plunge rough contour patterns with containment, after faces to be machined, containment faces, and the start point of the contour are specified
"Early users of GibbsCAM Plunge Rough are reporting upward of eighty percent time savings over traditional rough milling processes on a regular basis," added Mr. Gibbs. "That is truly exciting news, especially since these customers are also saying that the percentage of time saved varies directly with the amount of material removed."
In addition to Plunge Rough, all the new features of GibbsCAM 2010 will be available for demonstration at WESTEC, including VoluMill™, another fast material removal feature recently added to GibbsCAM.
For more information about GibbsCAM and other Gibbs programming solutions, or to locate your local GibbsCAM Reseller, go to www.GibbsCAM.com, call 1-800-654-9399, or email [email protected]