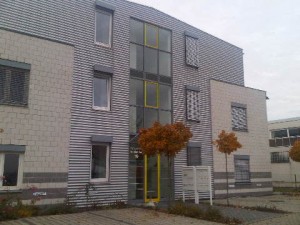 Frankfurt, Germany, December 20, 2011 – INUS Technology, Inc. (www.rapidform.com), a leading provider of software for reverse engineering and inspection from 3D scan data, has just opened a new office in Oberursel, just outside Frankfurt. The larger office, located in the heart of Europe, enables the company to provide expanded sales and support to customers throughout Europe, the Middle East and Africa.
The company opened its first European office in the town of Eschborn, Germany to serve the EMEA region in 2004. Since then, the number of Rapidform customers in EMEA has increased more than 15-fold. Its presence in Europe supports INUS Technology's global growth strategy with local sales and support in key markets around the world.
"Rapidform is used by hundreds of pioneering and high-growth companies across Europe," said Calvin Hur, CEO. "By strengthening our presence in the European business hub of Frankfurt we are able to offer the most advanced technologies and 3D scanning solutions to our European partners and customers, providing them with the opportunity to advance past their competition."
Jacques Weijtmans, Product Manager of INNEO Solutions, a Rapidform reseller in Germany, commented on the local support they receive from INUS Technology. "The partnership and close cooperation of INUS Technology and INNEO ensures the long-term success of our customers. For INNEO Solutions customers, the INUS Technology products Rapidform XOS, XOR and XOV are an excellent extension to the PTC product portfolio." INNEO Solutions GmbH is one of the leading providers of PLM-, CAD/CAM/CAE solutions and information technology in Germany, Austria and Switzerland.
The company's new address is available at www.rapidform.com/about-us/contact-us
About INUS Technology Inc. INUS Technology helps companies unlock the power of 3D scanning. The company's software solutions are the most widely installed products for reverse engineering, 3D imaging and inspection using 3D scan data around the globe. Rapidform makes 3D scanning an extremely powerful tool for a variety of applications and is used in fields such as manufacturing, R&D, quality inspection, medical research and civil engineering. Leading companies including Audi, Ford, Hyundai, Toyota, Rolls Royce, Volkswagen, Hitachi, Panasonic, Oakley, Samsung, Sony, Alcoa, and Benteler use Rapidform's advanced technology to innovate throughout their research, design, manufacturing and quality control processes. For more information, please visit www.rapidform.com